Replacement for Dell Precision M6600 battery - 97Wh,9 cells
This brand new 97Wh(9 cells) replacement Dell Precision M6600 battery is made with high quality battery cells. Guaranteed to Meet or Exceed Original Specifications.
SKU :
UKD376
Condition :
Replacement,High Quality
Chemistry :
Li-ion
Color :
Black
Volatge :
11.1V
Cells :
9 cells
Capacity :
97Wh
Dimension :
190x83x21mm
Description
Compatibility
Shipping
Payment
Warranty
Note : 10.8V and 11.1V are compatible, they are in common use.
Our brand new 97Wh(11.1V, 9 cells cell) replacement
Dell Precision M6600 batteries
are made with high quality cells ( SANYO, BAK, SAMSUNG etc.), lasting as long as the original battery did. All of our Li-ion replacement batteries for Dell Precision M6600 have been tested and proven to match and/or exceed original battery performance and 100% compatible with Original Manufacturer Specifications. Every piece of
battery for Dell Precision M6600 laptop
has been tested on Dell systems to ensure the safety for your Dell laptop.
This high quality rechargeable
battery for Dell Precision M6600 laptop
is designed with the highest control standards; have internal circuit boards with smart chips ( Cell imbalance shut off protection, Thermal runaway protection, Overcharge shut off protection, Over discharge shut off protection, High/low temperature shut off protection ), and are made from eco-friendly materials without lead or mercury. Every replacement Dell laptop batterry has been Certified by CE, UL, ROHS, ISO9001/9002 and has passed strict safety tests. Long lasting, this extended 9 cells Dell Precision M6600 battery can be charged/discharged for more than 600-800 cycles.
Thank you for shopping replacement
Dell Precision M6600 battery
at DellLaptopBattery.co.uk. Please make sure that the model of the Precision M6600 battery you chosen can fit well with your Dell laptop before placing an order. Each battery has its model name(or part number,P/N) which you can find on your original battery. If you can't find the matchable model or the compatible part No.. please tell us the part number of your original battery or the exact name of your machine via email and we will recommend you the right battery.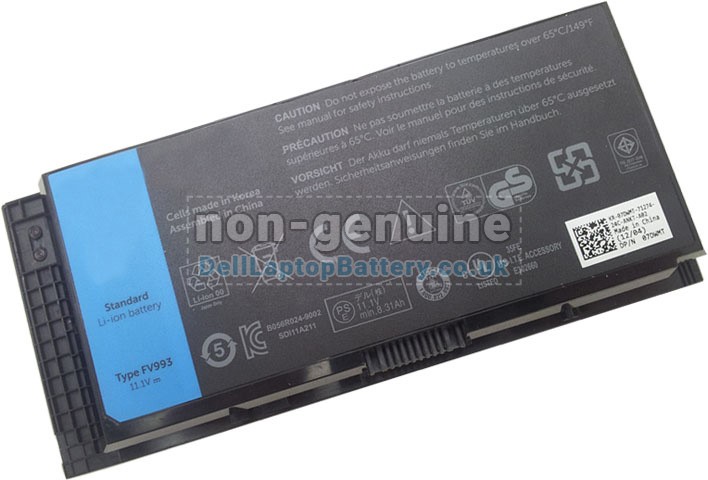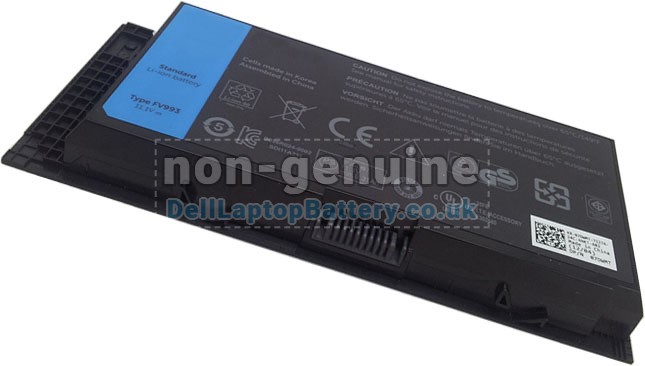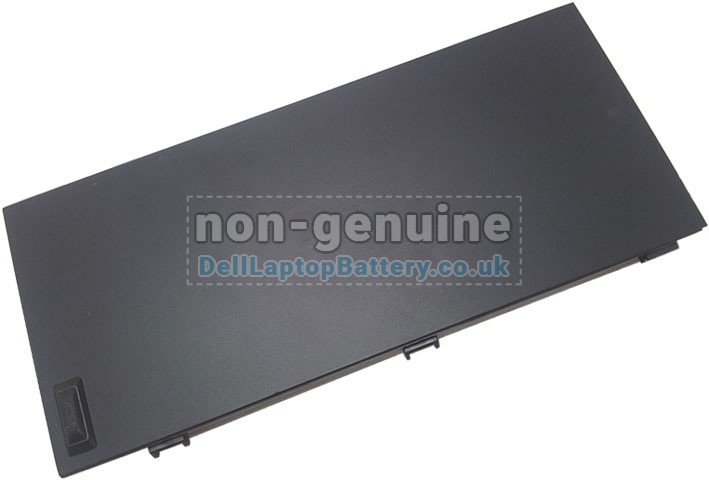 Compatibles Part Numbers
0FVWT4
0TN1K5
312-1176
312-1177
312-1178
312-1354
3DJH7
451-11742
451-11743
451-11744
451-BBGN
451-BBGO
5V19F
97KRM
9GP08
FV993
H1MNH
PG6RC
R7PND
V7M28
Fit Models
Precision M4600 Mobile WorkStation
Precision M4600
Precision M4700 Mobile WorkStation
Precision M4700
Precision M4800 Mobile WorkStation
Precision M4800
Precision M6600 Mobile WorkStation
Precision M6600
Precision M6700 Mobile WorkStation
Precision M6700
Precision M6800 Mobile WorkStation
Precision M6800
Please read the instruction carefully before using the battery for Dell Precision M6600 laptop
Please discharge the Brand new replacement Dell Precision M6600 battery to 3% then fully charge with over 8-12 hours for the first time use, and the first 3 charge/discharge cycles are very importantly for getting max performance.
Battery needs recycling frequently. It is rcommended to discharge and charge it once per two months at least,in order to the replacement Dell Precision M6600 battery maintain the best performance. Please discharging it to 3%, and then charging it full.
If external power supply will be used for a long time, please remove the replacement Dell Precision M6600 battery from your laptop, which can increase battery life.
It is normal for a battery to become warm during charging and discharging. If the replacement Dell Precision M6600 laptop battery is not going to be used, please store the battery in a cool, dry and clean place.
Never take out the Precision M6600 battery from the laptop when charging or discharging.
If the replacement Dell Precision M6600 laptop battery can't work well, please check twice to confirm that whether the battery is defective or not; if the problem still remains, please contact our customer service representative ASAP and let us know the problem in detail. We will do our best to serve you.